Emergency First Aid & CPR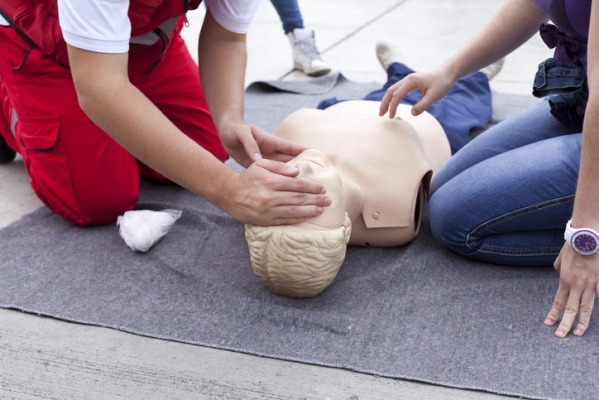 Our Emergency First Aid Course offers an overview of First Aid and CPR skills for workplaces or home use. This course covers skills needed to recognize, prevent and respond to circulation emergencies for adults (CPR level A, C, or HCP). Topics include airway breathing emergencies and prevention of disease transmission. All full course participants receive a Manual & Certification Card.
Duration
Blended Emergency First Aid & CPR: 4 hours online learning, 3.5-4.5 hours teaching time.

Basic one-day course offering an overview of first aid and cardiopulmonary resuscitation (CPR) skills for the workplace or home. Includes the latest first aid and CPR guidelines. Meets OHS regulations for Basic First Aid. Exceeds competitors' standards by including injury prevention content, CPR and AED.
Instructor
Red Cross First Aid Instructor or Instructor Trainer
Completion
100% attendance, skills demonstration, and 75% min. passing grade on written exam
Certification
3-year certification in Emergency First Aid, CPR Level A or C, and AED
Recertification
Where provincial/territorial legislation allows; 5–6 hours; includes CPR Level A or C
Course Content
Preparing to respond

The EMS system

Check, Call, Care

Airway emergencies

Breathing and circulation emergencies

First aid for respiratory and cardiac arrest

Wound care
Includes any other content required by specific legislation
Participants Materials
First Aid & CPR (print and/or eBook)
Comprehensive Guide to First Aid & CPR (eBook)
Emergency First Aid – Online (Blended only)
Emergency First Aid certificate (digital certificate issued upon successful completion)
*Please Note that currently this course is only available to groups of 15 or more.
TO REQUEST MORE INFORMATION/PRICING - PLEASE CLICK HERE