Trencher Competent Operator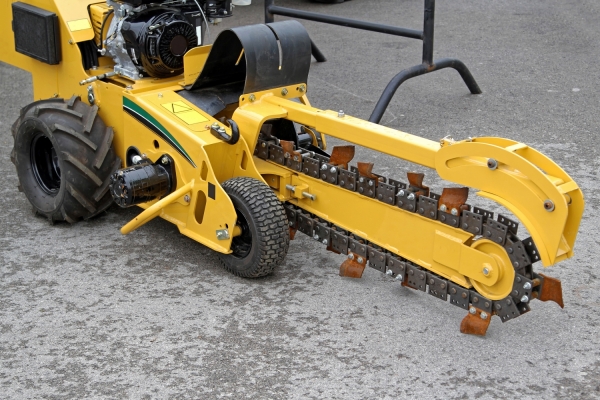 Trencher Competent Operator training provides the understanding of Ride on Trencher operation. This training covers both federal and provincial legislative requirements. As per Saskatchewan OH&S Regulations Section 154, Table 14.1, anyone who operates Powered Mobile Equipment is required to complete a minimum 16 hours training. This program is a combination of both theory and practical competency assessment training.
Classroom Training Content
Trencher Competent Operator Training incorporates the use of custom designed interactive models and visual aids which help to enhance interest and facilitate a higher comprehension level for participants.
Course Outline
Duties of Employers, Supervisors, and Employees under Saskatchewan Occupational Health and Safety Regulations 1996.

Terminology

Site Planning, Hazard Assessments

Utilities and Locates, Ground Disturbance Permits, Notification to Facility Owners, Crossings

Components (Boom, Attachments, Chains, Auger)

Pre-Use Inspections including OEM and Regulatory Requirements

Travel, Starting, Stopping, Travelling on Inclines/Declines

Load Handling (Weight, Size, Levelling, Load Charts, Safe Load Capacity, Center of Gravity, Stability Principles)

Soil Types, Backfilling, Levelling

Emergency Procedures, Utility Strike Procedures

Pedestrian Traffic

Transport, Loading/Unloading onto Trailer

Maintenance

Refueling
Practical Component
Practical skill check assessment is required in order to receive certification at the completion of the course. Trencher Competent Operator Certification is required as per Saskatchewan Occupational Health & Safety Regulations. Operators are required to complete the Competency Skill Check on the Trencher that will be used in their specific operating environment.
Takeaway
Upon completion of Trencher Competent Operator Training, operators will have the knowledge, training and information required to safely and efficiently operate their Trencher.
Duration & Location
4 hours of classroom theory followed by written competency exam. The remainder of the program includes practical operation which gives the operator an opportunity to practice newly acquired skills prior to completing a final skill check assessment for Trencher Competent Operator Certification. This course is conducted at various facilities, shops, yards, field sites or any location where operator and site-specific Trenchers are available and utilized during training as per course and Saskatchewan Powered Mobile Equipment Competent Operator Regulations.
Operator Certification
Powered Mobile Equipment Competent Operator has no expiry date once an operator has been deemed competent. Workers must be re-evaluated in situations where they have not been operating a specific type of PME regularly for a period of three years.
Program Includes
Written examination

Record of training report to employer

Wallet Card Certification upon successful completion of course
Training must meet specific requirements outlined in Section 154 and Table 14.1 of the Occupational Health and Safety Regulations. A minimum of 16 hours combined theory and practical training is required on all powered mobile equipment.
DAXX Safety Group offers the necessary training to meet these regulations through classroom lectures, workbook components, videos, and individual coaching on the equipment.
TO REQUEST MORE INFORMATION/PRICING - PLEASE CLICK HERE